Honorary Consul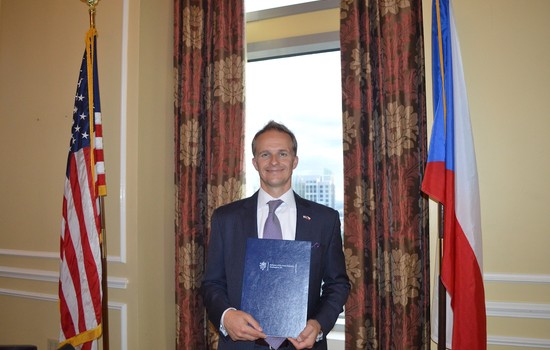 Petr Vasicko is the Honorary Consul of the Czech Republic for North and South Carolina. Mr. Vasicko is a passionate patriot with his heart shared between his birth country, the Czech Republic and his current home, the United States. Mr. Vasicko believes that with his position of the Honorary Consul, he is able to give back to both of his beloved countries while fulfilling his long term pursuit to help both countries while strengthening their relations.
Mr. Vasicko represents Czech interests in the assigned jurisdiction and works to foster and further advance Czech-American relations in all spheres including academic, commercial, cultural, economic, scientific and social. As a strong believer in collaboration and exchange, Mr. Vasicko enjoys connecting people and bringing ideas together to promote advancement and development.
Professionally, Petr Vasicko is an entrepreneur active on both sides of Atlantic Ocean. Mr. Vasicko is the founder of an American real estate firm Eternity Real Estate Group, founding partner of Downtown Invest s.r.o., European real estate developer, co-founder of EUHERE Sports LLC, distributor of sports products in North America.
Mr. Vasicko received his bachelor degree in accounting from Elmira College in 1997.
Mr. Vasicko serves the community as a board member of the Southwestern Chapter of Charlotte Chamber of Commerce, is a member of the Advisory Board of HomeTrust Bank, a member, officer and treasurer of Consular Corps of North Carolina, a member of Consular Corps of South Carolina, a board member and treasurer of the Czech and Slovak School of North Carolina and a member of World Affairs Council. Petr Vasicko is also a member of the Charlotte Region Commercial Board of Realtors and is a licensed real estate broker.
Mr. Vasicko is happily married to his wife Mrs. Colleen Vasicko and together they have three children: Isabella, Sebastian and Roman. Outside of time spent with his family, Mr. Vasicko's personal interests and hobbies include sports, languages and travel.